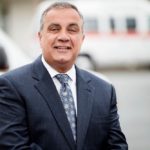 John Chemaly
SVP Corporate Strategies
Email: jchemaly@trinityems.com
Bio
978-441-9191 ext 321
John is actively involved in day-to-day operations and community enrichment. With a strong commitment for community service, John leads by example, serving on numerous Boards and Committees throughout the Greater Merrimack Valley, including the Massachusetts Ambulance Association, Merrimack Valley Hospice House, YMCA of Greater Lowell, Big Brother and Big Sister of Haverhill, Alzheimer's Association, Yankee Clipper Council, March of Dimes Walk, Kidsfest in Haverhill, Lowell Transitional Living Center and Merrimack Valley Food Bank. Born and raised in Tewksbury, John is a graduate of Holy Cross.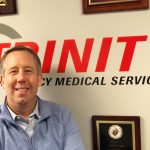 Chris Dick
SVP Marketing & Public Relations
Email: chrisdick@trinityems.com
Bio
978-441-9191 ext 332
Chris first joined Trinity EMS, Inc. in 1991 as a wheel chair van driver during his time at college. After moving on to a successful career in the hospitality and then the banking industry, Chris returned to Trinity in 2008 as Director of Business Development and Marketing.
Chris has deep roots in Greater Lowell. He serves on numerous non-profit boards and committees throughout Lowell and Haverhill. He has been an active member of the Board of Director for the YMCA of Greater Lowell since 2003. Chris was also one of the former founders of the Young Professionals of Greater Lowell.
Chris is a graduate of Tewksbury High School ('90) and received his Bachelor's Degree in Business/Hospitality Management from Johnson and Wales University ('94) in Providence, Rhode Island.
Chris is married to his wife Elizabeth and resides in Tewksbury. While not busy with work and his non-profit rolls, he helps raise (and coach) his three children – Abbey, Brody and Tyler.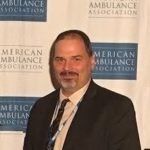 Jon Kelley
Director of IT/Communications
Email: jkelley@trinityems.com
Bio
 978-441-9999
Jon started in the EMS industry earning his EMT patch in 1994. Over the next two years he worked in EMS and joined the Trinity family in 1997 as a full-time dispatcher. Although he truly enjoyed dispatching, he found himself on the ambulance working as an EMT. Jon's knowledge of EMS and technology grew throughout the years and in 2013 was promoted to Dispatch Manager for Trinity. His leadership in dispatch shined and his innovative thinking awarded him another promotion in 2015 as Director of Communications and IT.
Jon has represented Trinity at a Town, State and Country-wide level as an expert in EMS technology and systems. Jon has been a topic presenter at various industry events. In 1998 he was named the NorthEast EMS Region 3 EMS Dispatcher of the Year. Jon served as a Military Policeman with the Massachusetts Army National Guard from 1990 to 1996. He also holds a degree from UMass Lowell in Criminal Justice.
In September 2018, Jon presented overseas in China  at their Ambulance Forum where leaders from across China and the World gathered to discuss emergency care.