Non-Emergency Transportation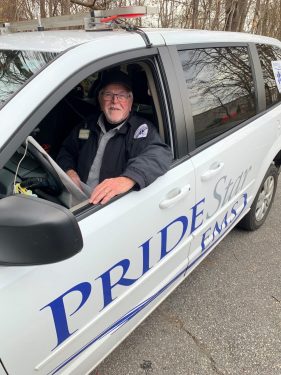 Pridestar Trinity provides a full range of scheduled transportation services and will match you with the right vehicle based on the level of care required. All of our vehicles are in constant contact with our state-of-the-art digital communications center by using the Mobilis in vehicle mobile data system. This system monitors our on-time performance and insures that all vehicles are directed where they are needed with the utmost speed, accuracy and efficiency.
Our professionals routinely transport mobility challenged patients to a variety of locations including:
Dialysis Appointments
Geriatric Day Care Centers
Hospital Inpatient/Outpatient Departments
Physician Appointments
Rehabilitation Therapy Appointments
Discharge from hospitals to home and long-term care facilities
Chair Van Division
Pridestar Trinity operates and maintains a modern fleet of chair vans which are monitored in real-time through our communications center. All of our wheel chair van attendants are certified in first responder training and Cardiac Life Support (CPR). We have a variety of vans, some with extended length ramps. We can accommodate most wheelchairs, including electric and bariatric models.
To schedule a pick-up, call our Dispatch Center.